VX Commodore
Rated (9)
Classic Holden Cars TOP TEN
While retaining the key attributes that won the VT Commodore such emphatic market acceptance, the VX range offers a higher degree of refinement, achieved through design, engineering and feature upgrades. Styling changes – teardrop headlamps, new grilles, bumpers and rear treatments – give more differentiation between models; interior trims are all-new. Steering-wheel mounted sound system controls, CD player, retracting power antenna and ABS brakes are standard across the range; the Supercharged V6 engine option is extended to Executive and Acclaim sedan buyers. Driveline refinements, recalibrated and more powerful electronics, suspension changes and noise isolation measures combine to deliver smoother and more responsive performance, a 3-4 per cent improvement in fuel economy and a quieter ride. VX also features a new concept in side structure which gives occupants measurably better protection from injury in a side impact collision.
[ad name="468×60″]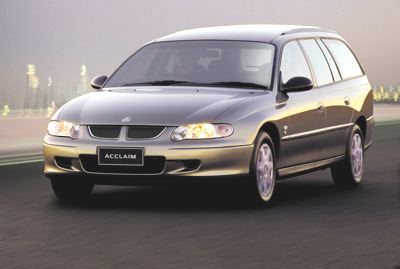 Some changes introduced with the Series II include: The new rear suspension on Series II – known as Control-Link independent rear suspension (IRS) – which has been designed by Holden engineers to combine all the traction qualities of a supple independent rear suspension system with even greater stability, handling precision and control.
Berlina and Calais feature distinctive new grille inserts with diagonal crosshatching and new rear badges; Calais headlamps are outlined with sporty black bezels; Commodore Executive and Acclaim have revised grille treatments and new wheel covers. For added security, Commodore Executive, Acclaim, S and SS models are now fitted with an alarm system, operated via remote control Power Key, which sounds the vehicle's horn when triggered.
Holden Commodore VX
2000 – 2002
Engine: 6 cyl. & V8
Capacity: 3.8 litre ECOTEC EFI V6; 3.8 litre Supercharged V6 & 5.7 V8 EFI
Power: 152kW (V6); 171kW (Supercharged) & 225kW (V8)
Transmission: 5 spd. Getrag man / 4 spd. Turbohydramatic /
6 spd. manual on SS sedan
Base price on introduction: $28,900.
Total built: 207,339